KB Contract Textiles & MindClick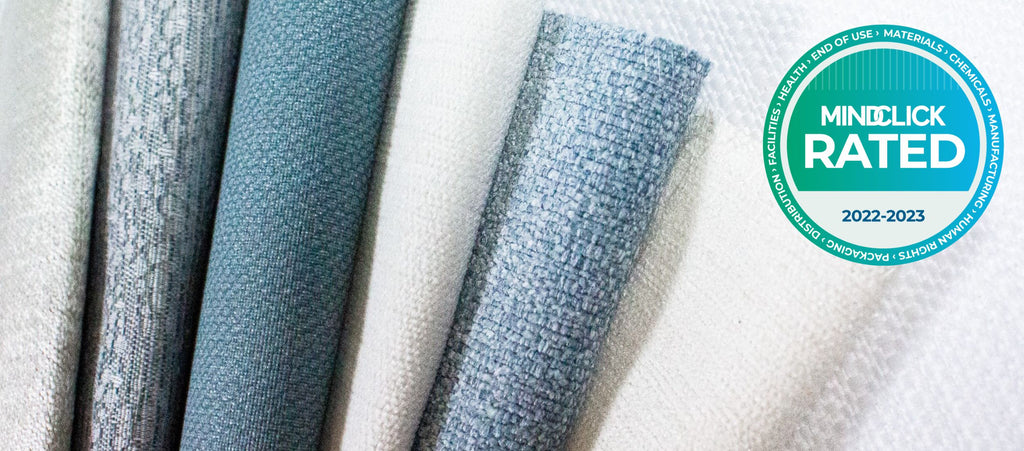 KB Contract Textiles is thrilled to announce that 110 of our patterns have an official MindClick rating, marking a significant step in our commitment to sustainability within the realm of interior design. Collaborating with MindClick reflects our dedication to making a positive impact on environmental and social responsibility. MindClick's extensive knowledge in sustainability aligns perfectly with our mission to encourage healthier environments through innovative design solutions. 
What does it mean to be MindClick rated? 
Being MindClick rated signifies that KB Contract Textiles has successfully undergone an environmental assessment process and has met all the necessary criteria to be recognized as a sustainable provider. A MindClick rating serves as a valuable indicator for designers as it helps easily identify the most environmentally friendly options, ensuring that your design choices contribute to a healthier and more sustainable environment. Our products that have received a MindClick rating highlight our dedication to using materials that have a positive impact on the environment. 
MindClick's Design for Health™
MindClick's Design for Health™ is the ultimate digital studio for healthy interiors. Within this innovative platform, KB Contract Textiles proudly stands out as a featured vendor within the Vendor Library. Our extensive selection of 13 product families offers an array of eco-conscious choices to cater to diverse design needs. Each of our product families showcases a variety of offerings, all sharing the same material and chemical profile. Whether you're in search of classic faux leather or vibrant upholstery fabric, KB Contract Textiles provides an extensive selection of sustainable options.
Together with MindClick, we look forward to working towards a more sustainable future in interior design. Our shared commitment to sustainability presents our belief that interior design can result in positive change by creating spaces that enhance the health of our planet.